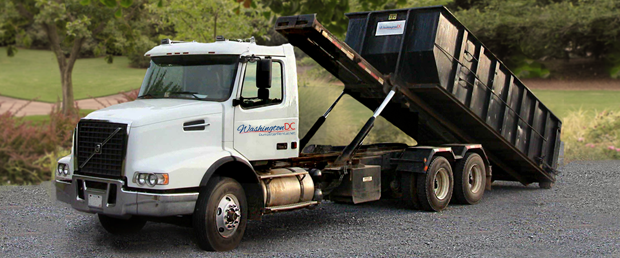 Renting with Washington D.C. Dumpster Rental is an experience unto itself; even more so when you compare our rental process to those employed by other dumpster rental companies. We don't leave our customers hanging with missed calls or putting them on hold. We get right on top of every customer's order the moment we pick up the phone. That's why many dumpster renters in the D.C. area trust us more when it comes to their roll-off dumpsters. We have an established reputation for providing a responsive and reliable customer service team, along with affordable rental rates. You'll find hundreds of our customers dotted across the D.C. metro area. All of whom are beyond satisfied with the quality of our disposal service.
Want to become one of our many satisfied customers? All you have to do is dial our number at 202-629-0989. This will put you in contact with one of our customer service professionals. Each member of our service team here at Washington D.C. Dumpster Rental has an extensive background working with all sorts of customers. We've handled the disposal needs of contractors of all trades, as well as construction companies, offices, retailers, and homeowners. All we need to know is the nature of your disposal, including debris type and volume. With that information in hand we can recommend a dumpster in the appropriate size for your debris.
Making Dumpster Rental Simple
Our service provides deliveries within 1-2 business days of order placement
To order simply dial our service line and tell us what you need to dispose of!
Each of our dumpsters is built to handle multiple tons of waste from homes, businesses, and work sites
Need another dumpster? We can send out multiple dumpsters to your location
If you fill up your dumpster you can always have it emptied and returned so you don't have to stop cleaning!
Simplicity is a hallmark of any good service. And with our dumpster rentals you'll feel like you only have to put in half the amount of effort you've put into your previous cleanup jobs. That's because we don't hassle our customers with extraneous fees or missed deliveries. Our delivery system works like clockwork, delivering and picking up our customer's dumpsters on-time and in good order. We aren't one of those companies that take the money and run. We make sure that your rental experience meets your, and our, expectations from ordering to disposal.
Low Prices Are the Hallmark of Our Business
Go ahead and look around the Beltway for another trash hauler that can match our prices. You'll be hard pressed to find any other dumpster rental company that can offer the same rates that we do. Each of our dumpsters is priced at wholesale rates that allow us to charge less per dumpster than other companies. Plus, our prices are set at flat rates so you always know how much you can expect to pay for your particular dumpster. Many other businesses will charge you by the ton, but we feel that a flat rate is a far better deal for our customers. And we think our customers agree with us!